OMG. Have you seen this bag? I'm almost giddy.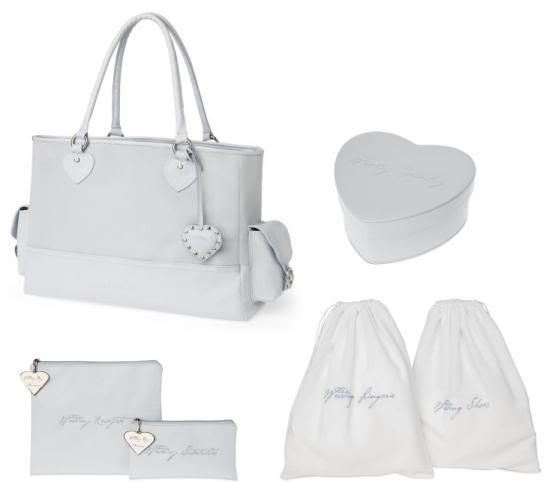 And, because I'm essentially speachless with awe and admiration for this bag, I've shamelessly copied this directly from
Shelley George
's website...
"When I set out to design this bag I knew it had to be practical, with a place for just about everything you need for going to and from appointments and fittings. I think it's also important that it's stylish and a bit luxurious so you love carrying this day after day, even after your wedding." ~ Shelley George
This ultimate wedding organizer arrives stocked with two fabric totes for lingerie and shoes, two leather zip pouches for receipts and swatches, and a heart shaped leather jewelry box.
Interior lining is printed with the words "Something Blue" and is divided to organize and store magazines, folders, jewelry, receipts and more.
Two exterior side pockets with buckle closure provide easy access to your cell phone, keys and other essentials.
Made from durable nylon and generously trimmed with extra soft pale blue leather. Measures 16" across, 12" high and 4.5" wide with lightly padded leather shoulder straps.
OMG. I want this bag and I'm already married. If I had my own list of reasons why I'm addicted to weddings, this would make the list. See the original list of
Top 10 Signs You Are A Wedding Addict
that Saundra of
Planning...Forever Events
wrote on her blog.