I popped in on a favourite this morning,
Brooklyn Bride
, where Vane introduces us to fabulous things. First of all, I thought I was lost, because I didn't recognize the blog for a moment; she added a new header, which is absolutely lovely. She gave a shout out to Jessica at
How About Orange
who provided the design. Me, not able to resist a link, saunters on over to
How About Orange
and was deeee-lighted. I was barely on the site for a couple of minutes before I added her to my favourites.
Which brings me to the title of today's post. I thought it sounded a little dirty but, well, it's Friday so I'm feeling extra sassy.
I found these two fun tools:
The Hockneyizer
. Where you can upload a photo to make a scatter of Polaroid's. This is my wedding bouquet.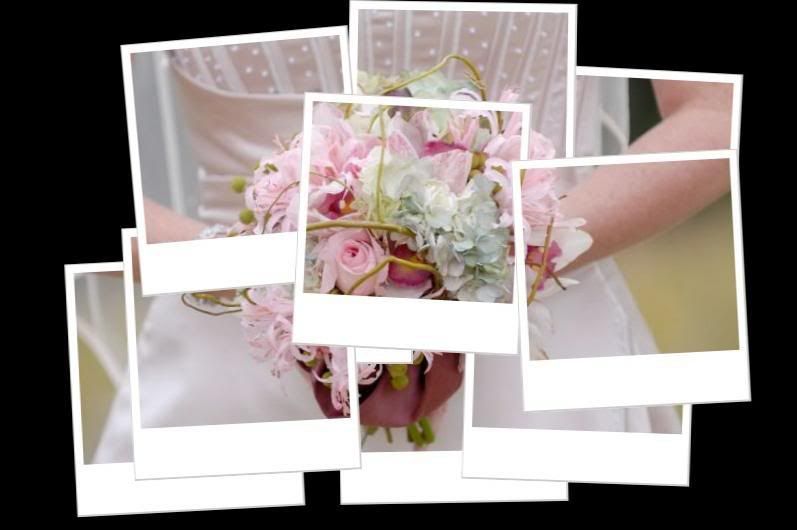 Neat, neat, neat. You can use any photo you like, choose the amount of Polaroid's you want, shuffle them around and that's it! You're Hockneyized.
They also provide a quotation with each shuffle, this was mine,
"Beauty is not in the face; beauty is a light in the heart." — Kahlil Gibran.
Awwwww…..
Then, not able to resist, I wheeled through some older entries and found
Spell with Flickr
! I'm a word and font junkie. I'm not sure I've mentioned this before but, now it's out there. Upon entrance to the site you enter in the word you want "Flickr'ed" and it'll provide an assortment of letters from the Flickr files and make your word! Neato mosquito! It even allows you to "
flick
" through the letters if you don't the like the one you were dealt.

So, happy Friday! Play away!