Three weeks ago, a wonderful and inspirational Blogger, Stephanie (Nie) of the
NieNie Dialogues
and her sweet husband Christian (Mr. Nielson) were in a tragic private airplane crash in Arizona.
They are being treated in the local hospital for their very serious injuries. I believe that today, they still remain in critical condition and they are in for months and months of recuperation.
Nie is one of those people that, when you encounter her - you wish you could be more like her. As a mother, as a woman, as a friend. Her blog was about her life as the mom to four children, the trials and tribulations of such, her great husband, sometimes the dog, the design and décor of their home – just life. Simple. Real. Fantastic. Life.
One of my very favourite posts was recent, she posted about a back-to-school-party she hosted for her two oldest kids – who does that!?!
Nie does
.
If you'd like to learn more you can visit Nie's sister's blog,
c jane
, she's keeping us updated on their recovery. You can read the article published in the
New York Times
or view Nie's siblings on the
Today Show
.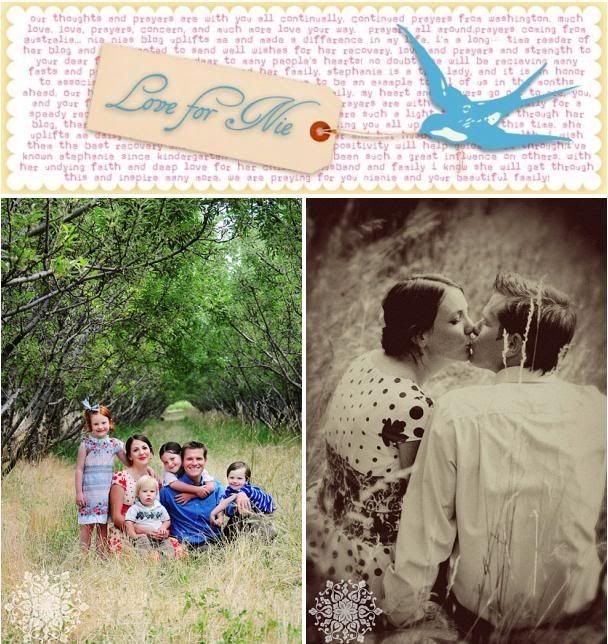 The only good thing that has come of this is the outpouring of support in prayers, notes, emails and fundraising. All of which need to continue, this family will need so much assistance to keep going through the recovery period that if your feel like your heart has been touched by Stephanie and Christian, click on the donate button on my sidebar. Or visit
Nie Recovery
.
Photo Source :: Wendy from
Blue Lily Photography
and you can see the rest of this shoot
here
.