Aren't we always on the lookout for the perfect wedding gift? While I appreciate the gift registry and quite often buy from it, I also like to find something unique and personal for the couple too - especially for close friends and family. As a matter of fact, the gifts I favoured from our wedding weren't on our registry. We received the most beautiful piece of pottery I've ever seen, a painting of our wedding ceremony, a beautiful wine decanter, and a silver candle snuffer, to name a few.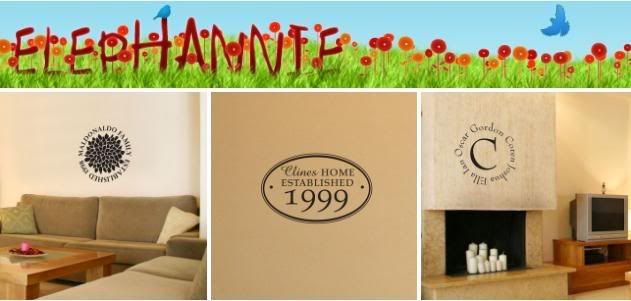 I thought these vinyl decals from
Elephannie
's
Etsy
shop would be a thoughtful accoutrement to the toaster or blender or sheet set you buy from the registry.
One could buy the "Home Established" decal for the couple's first home. Or if the marriage is a blending of two families with kids, the decal over the fireplace with everyone's names would be wonderful. Perhaps, if the invitation has a monogram on it you could have one custom made for the couple's wall.
Visit
Elephannie
's shop for more wonderful goodies.