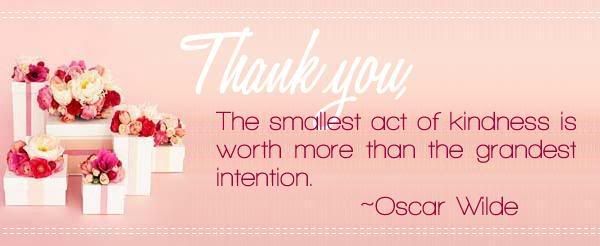 Today is the one-year anniversary of the Blush.alicious blog. I started this blog on a whim. I started it for me. I needed a creative outlet. I needed to do something with idle hands, idle ideas, idle imaginings. Never, never, never in my wildest dreams did I think that I would have found such success! By '
success'
I mean visitors… repeat visitors… fans of this blog. I thought that most of my hits would come from a few friends and my husband maybe. But thanks to all of you, Blush.alicious has taken on a life of it's own. It's a place I love and I'm glad you love it too.
So, thank you! Thank you for visiting, thank you for bookmarking, thank you for linking, thank you for subscribing, thanks for recommending, and thanks for coming back time and time again.
I would also like to specifically thank my early blogging friends – your advice, links, and support helped launch Blush.alicious:
Liene at Blue Orchid Designs
,
Kelly at Glamour This!
,
Lara from Ready 2 Spark
, and
Aletha from Pearls Events
. I know that there are many more, so many more, that link to Blush and I thank you all from the bottom of my heart, but these ladies were the first and I'm indebted to them.
I would also like to specifically thank these wonderful sites for linking to Blush; the volume of traffic generated from each or your sites daily is generous and I'm beyond flattered.
Martha Stewart Living - Martha's Circle
,
Abby at Style Me Pretty
,
Delightful Blogs
,
Real Simple Nearlywed Blog
,
Kathryn at Snippet & Ink
, and, most recently,
Alltop Weddings
.
I would also like to thank my "Sexy Husband" – Babe, without your friendship, love, support, foot rubs, McKay's Ice Cream emergency road trips, and caving when I suggest we go for Bellini's at Joey's or head to 4th for sushi, I wouldn't be the person I am today. Thanks to you. I love you.
Thanks to my sis, for sending me ideas and being my number one. Thanks to my girl Coop for the arse kicking, and all my friends (St, B, K, V, Su, and Bear) for "chick outs" and for checking in and checking up. Thanks to Sophie for being so darn cute. And, thanks to my parents, who don't read this blog or really understand what a blog is but – I thank them anyway!
Now that my "Oscar acceptance speech" is over, I would like to say one last thank you. Thanks to those who have emailed me with comments, suggestions or the like. I have been so busy lately that I haven't been able to get around to much Blush stuff. I have over 900 (!) emails to attend to so if you're waiting for a response - it's coming!
This last year has been so exciting and full of change - there can only be more. Someone once said that
the only constant you can count on is change
(or something like that) and I will tribute that statement. I'm hoping to make some changes to Blush in the next little while, format and content and such, so please bare with me.
xoxo,
Lisa
ps... if I missed anyone I'm sorry! And I thank you!