Peonies and Lotus and Furochic – Oh My!
I'm in love with another shop,
Jenny Wren Paperie
. I even love saying the name. Jenny Wren Paperie. Based in Victoria, B.C., Jennifer, the owner and designer, infuses nature with an Asian flair in her patterns. Her online store is a paper buffet of goodness featuring cards, notebooks, gift tags and more. However the item that I'm excited to share with you is in her
Furochic
collection.
Furochic
is based on a Japanese art form of wrapping purchases and embellishing important gifts with a piece of fabric; I featured
furoshiki
in an earlier post.
All that said and shared, I'm most excited about the pictures below, the Furochic wrapped into a handbag with bamboo handles. Wouldn't this just be the perfect presentation to welcome your friends and family at a destination wedding? Can you imagine how impressed your guests would be if they walked up to their room and this was on the door to greet them? Can you hear the "ooh", "ahh", "giggle", "giggle", "wow".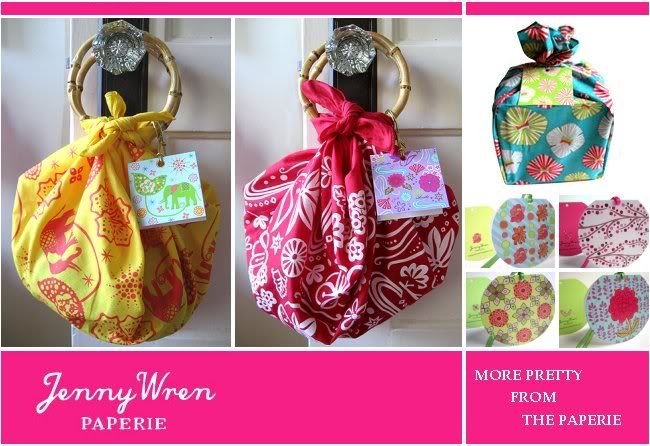 And. It is reusable. And. The fabric can be used as a head wrap or sarong. And. It's eco-friendly. And. It would be easy to pack. And. It would be easy to assemble. And. They're really, really pretty!