In honour of fellow blogger, Jennifer, of
Earth Friendly Weddings
(thanks again!) I've decided to post something "green".
Furoshiki
is a traditional type of Japanese wrapping cloth that were frequently used to transport clothes, gifts, or other goods. The ancient artform developed from public bath houses where the patrons would bundle their clothes into neat little packages. Eventually, the furoshiki's usage extended to serve as a means for merchants to transport their wares or to protect and decorate a gift. Learn more wrapping techniques at
Furoshiki.com
.
What a wonderful way to package a present to one you love, not only do they receive the gift inside but also the beautiful fabric, wrap, sari, pashmina, scarf you can choose to wrap it in. Think Christmas, birthdays, Mother's day and for your bridesmaids!
The following are examples from the
Biota Collection
to be found at a company called
Posch
, located in Montreal.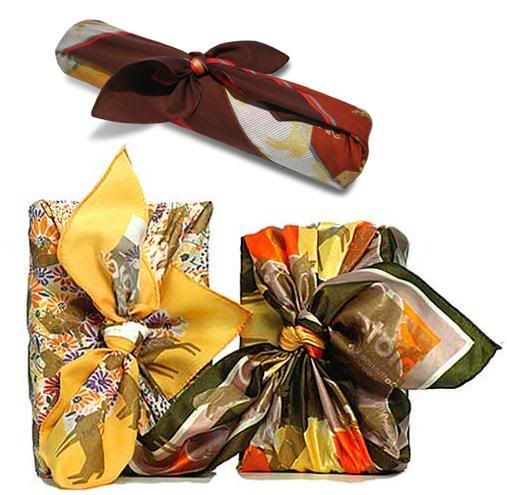 The possibilities are endless.