My husband is pretty fantastic, he thought long and hard about how he wanted to propose to me in a way that would be perfect for us. He wanted to find a spot that would always be there, a place we can go back to and reminisce; he didn't want to ask me in our house in case we moved someday, and he didn't want to propose in some anonymous restaurant in case it ever closed. He proposed at 8,000 feet, on the top of a mountain called 'Blue Heaven'. The chair lift is called 'Stairway to Heaven' and afterward we skied down a run called 'Cloud Nine'.
Where would your perfect proposal be?
A picnic?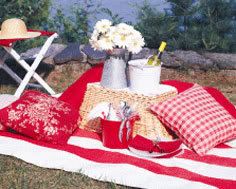 On the beach?
Or like this guy asked this girl? In a gallery. This is incredible; a must watch... See below...