Because we're having Christmas at our house this year I've been planning, organizing, shopping, baking, wrapping, and decorating since October. And, since I'm always thinking about weddings, the realization of this board seems only natural. The idea started to develop with Matthew Mead's marshmallows, then I saved the floral arrangement, then, when I found the little girl holding the amaryllis, well, the rest just "snowballed" from there. And, don't you love how the necklace looks like a snowman? I do!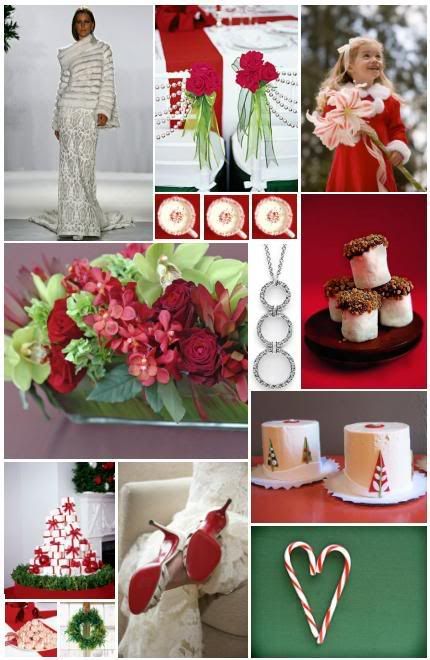 Bridal Gown by
PLATINUM for Priscilla of Boston
; Chair Backs by
Brides.com
; Little girl with amaryllis by
Getty Images
; Mugs of Peppermint Hot Chocolate by
Martha
: Chocolate dipped marshmallows by
Matthew Mead
; Floral arrangement by
Yvonne Floral Design
; "Snowman" necklace by
Tacori
; Cakes by
Bakery Bar
; "Tree" of packages by
Brides.com
; Red soled shoes photo by
Heather de Anda
; Candy cane heart by
istockphoto.com
; Truffles by
Brides.com
; Wreath by
Martha
.