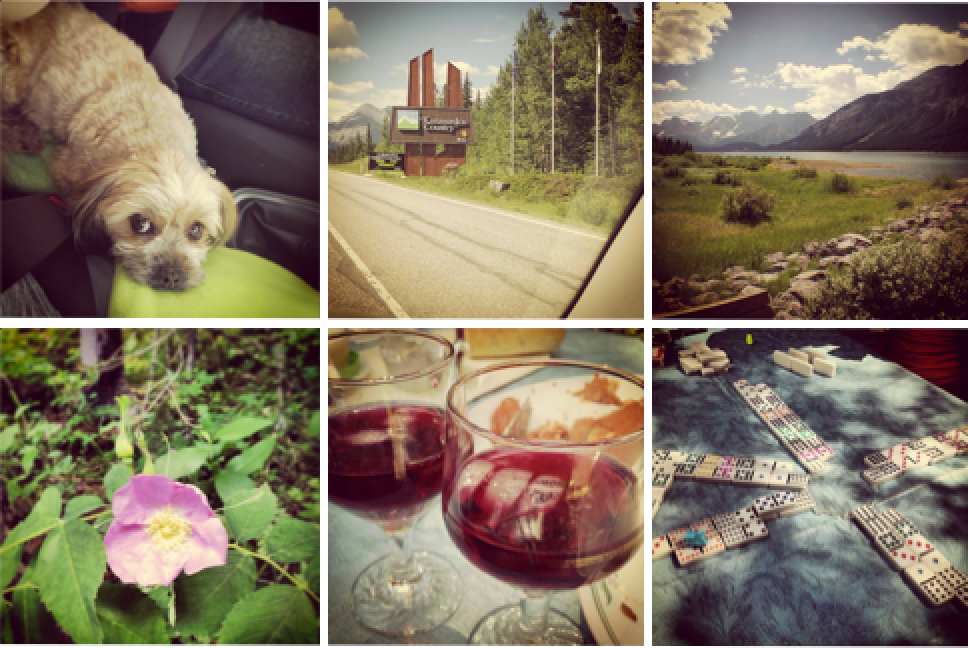 My parents were out camping in Kananaskis Country, and my sister and I went out to meet them.
1. The most adorable puppy ever is Sophie, my sister's dog. Although, she really is the family dog; we all just love her so much. In the first photo you can see that she made herself comfortable on the console between the front seats of my sister's car. What you can't really see is that she is lying right on top of our Starbucks coffees we bought for the road.
2. Entering Kananaskis Country.
3. We went for a walk, this is Lower Kananaskis Lake.
4. An Alberta Wild Rose.
5. Sangria!
6. Playing dominos on the picnic table under a warm afternoon sun. I won't mention who won. Yes I will. I did! I beat Dad by three little points!
7. My sister. Love her jammie and socks combo. I was calling her Pippy Longstockings.
8. Dad cooking sausages on the bbq and bacon on the griddle.
9. Cutest story of my parents. Every morning my Mom makes my Dad coffee. And my Dad makes my Mom tea. Then the share a banana. This is how Dad leaves the banana for Mom. The teabag is in the mug and the kettle is on boil. Adorable.
10-11-12. Dad made us pancakes for breakfast Sunday morning. He likes to separate the egg whites, whips them and folds them back into the batter so the pancakes are really fluffy. He does the "water bottle yolk separator trick" he found on the internet. It works like a damn! He tells me the tip for success is to wet the mouth of the bottle before you try.
13. Bye! Mom + Dad beside their rig. They're staying out for a few more days so they're going to keep Princess Sophie.
14. Jodi and I stopped for ice cream on our way home. Maple Walnut! Mmmm....
15. The road for home.